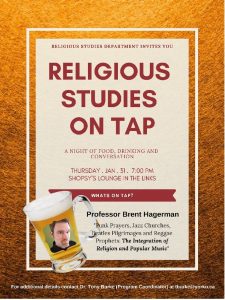 The first Religious Studies faculty and student gathering of 2019 will take place next Thursday (Jan. 31) with the inaugural Religious Studies on Tap series. Come out for a talk on Religion and Music with special guest Brent Hagerman, who will speak on "Punk Prayers, Jazz Churches, Beatles Pilgrimages and Reggae Prophets: The Intersection of Religion and Popular Music."
Brent teaches at Wilfrid Laurier University and Conestoga College on both religion and music. His research interests are on Caribbean music, particularly the work of Jamaican DJ and musician Yellowman and Bob Marley. Brent is also the singer and guitarist for Kitchener reggae band the Baudelaires.
The event takes place in the new lounge at Shopsy's in the Links. So come have some drinks, eat some food, and hang out.
Tell everyone! Bring a friend! Bring lots of friends!